Prague Horn Trio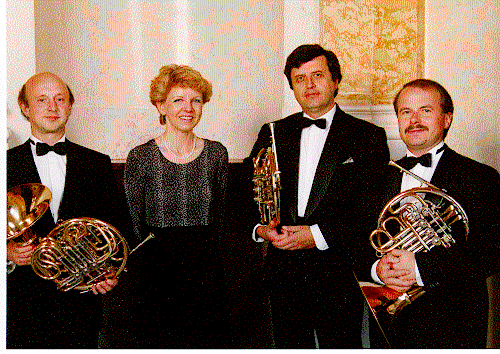 Jiri Havlik, horn, Jarmila Panochova, piano, Zdenek Divoky, horn, Jindrich Petras, horn
To: Concert Presentors:
The French horn, with its rich tone and warm colors, is almost everyone's favorite instrument, but in reality the horn is not French but Bohemian. The horn emerged from Bohemia, now part of the Czech Republic, in 1640. Almost all the early horn soloists were Czechs who seemed to be constantly touring Europe. Bach's famous first Brandenburg Concerto with its flashy music for two horns was written for two Czech brothers who inspired many works of this kind.
The Prague Horn Trio is part of this tradition. Much of the music that they play, like the trios of Rejcha and Stich, was written by Czechs. The high Czech standard of horn playing is made immediately evident by these accomplished artists.
It is no accident that an important component of sound tracks of recent hit films like Independence Day prominently display the horn. It is a sound that attracts attention and that many people (including composers) love.
The Prague Horn Trio is planning a tour of the United States from April 4 to April 23, 1999. They will proceed from New York City westward to Minneapolis. The Prague Horn Trio can provide you with a celebration of this favored sound at a reasonable cost. We would like to help you present this fine ensemble in your concert series.
To send an email message about the Prague Horn Trio [click here] or call 1-602-668-9236.
---
Prague Horn Trio
The Prague Horn Trio was founded in 1985 by three members of the Czech Philharmonic horn section. These hornists are all winners of several international competitions (Prague Spring International Festival, ARD Munich, Markneukirchen and Geneva). The goal of the Prague Horn Trio is to promote the French horn as a solo and chamber music instrument in its own right.
This unusual ensemble enjoys the freedom to choose from a wide range of repertoire, from compositions for solo horn to chamber works for two or three horns. Its basic repertoire spans from the classical period (A.Rejcha, J. Makovecky, J. V. Stich-Punto, Hanisch, W. A. Mozart, L. van Beethoven) right through to today's modern composers (B. Rehor, O. Flosman, P. Wisser, J. Pauer and J. Havlik).
The Prague Horn Trio performs frequently on concert platforms, both at home and abroad. Recent foreign tours have included Japan, Canada, Holland and Switzerland.
The Trio has also recorded several works from the mainstream horn repertoire including concertos for two and three French horns under the title Concertos of the Old Czech Masters (1991). Two further compact discs were made in conjunction with other members of the Czech Philharmonic horn section , the Tylsar brothers and R. Beranek containing music of F. Daupratt, G. Rossini and F. D. Weber. This horn sextet was later commissioned for further recordings for the Japanese firm PONY CANYON.
Since 1991, Prague Horn Trio, in order to pursue further its goals of promoting the future of the horn, has branched out into the field of teaching and education. Each year it organises and runs an international course in horn performance called Hornclass International, which is now in its 8th year.
Jindrich Petras was born in 1961 in Moravia. He studied at the Brno Conservatoire and the Janacek Academy of Arts under Professor Frantisek Solc. While still a student he joined the State Philharmonic Brno. In 1985 he became solo horn with the Czech Philharmonic, the most eminent orchestra in Czechoslovakia.
Some of his successes in competitions are
1982- Czech Ministry of Culture (2nd prize)
1984- Markneukirchen (1st prize)
1985- Geneva, Switzerland (2nd prize)
1987- Czech Ministry of Culture (1st prize)
1987- Prague Spring Intl. Competition (1st prize)
1987- Munich ARD (2nd prize, 1st not awarded)
He also devoted himself to chamber music as a member of the Foerster Quartet, French Horn Trio and Wagner-Tuba Band Prague.
Jiri Havlik was born in 1956 in South Bohemia. He studied at Prague State Conservatory under Professors Bedrich Tylsar, horn, and J. Z. Bartos, composition. Then, in 1979, he attended the Academy of the Musical Arts and studied with Professors Zdenek Tylsar, horn and V. Dobias, composition. At the same time, he became a member of the Czech Philharmonic, where he plays 2nd horn.
Jiri Havlik also has awards from the national and international competitions, e.g.
1971- International Radio Competition Cercertino Praga (2nd prize)
1975- Kraslice Wind Competition (2nd prize)
1977- Czech Ministry of Culture (2nd prize and special prize for composition)
1978- Prague Spring (3rd prize)
He is active in chamber music and also teaches.
Zdenek Divoky (born 1954) is a graduate of the Janacek Academy of Arts in Brno and studied with Professor Frantisek Solc. He particicated succesfully in a number of conpetitions held in Czechoslovakia and abroad. He is a laureate of the competition of the annual Prague Spring International Music Festival and also of the international competition held in Munich and Markneukirchen, Germany. Z.Divoky began his professional career in the State Philharmonic Orchestra Brno, where he also played in local chamber ensembles.
In 1979, at age 25, he joined the Czech Philharmonic. He also has established himself as a soloist and as a member of chamber ensembles, namely of the Prague Brass Trio, the Horn Quartet of the Czech Philharmonic, the Wagner-Tube Band Prague and as a guest performer with the Collegium Musicum Pragense and the Stamic Quartet. He also has several students.
Jarmila Panochova studied at the Brno Conservatory and later the Prague Academy of Music, graduating in 1978 from the class of Professor Ivan Moravec. In 1976 she succeeded in passing into the final round of the Citta di Senigaltia piano competition in Italy.
However, it was as a pianist in chamber music that Jarmila chose to enter the professional music scene. She works in conjunction with young soloists and chamber ensembles at the forefront of musical life today. Many are already winners of prestigious international competitons.
Jarmilla is presently engaged as official accompanist at the Prague Conservatory of Music.
---
Horn Trio Prague

Jindrich Petras, Zdenek Divoky, Jiri Havlik, horns
Jarmila Panochova, piano


Sample Progams
Program A: Historic
Leopold Kozeluh (1746-1813): Czech Hunting Fanfares (natural horns)
Jan Vaclav Stich-Punto (1746-1803): 4 Horn Trios
Joseph Haydn (1732-1809): Concerto No 2 in D for horn and piano (Jindrich Petras, horn)
Mozart (1756-1791): 3 Horn Trios
Frederic Duvernoy: Horn Trios, Op. 4
Franz Strauss: Nocturno for horn and piano, Op. 7 (Zdenek Divoky, horn)
Bohuslav Rehor (1938): The Little Horn Trios, 1992
Paul Basler: Folksong Suite for horn and piano (Jiri Havlik, horn)
Oldrich Flosman (1925): Serenade for 3 horns and piano
---
Program B: Popular
Jan Vaclav Stich-Punto (1746-1803): 4 Horn Trios
Anton Rejcha (1767-1836): 4 Horn Trios, Op. 82
Beethoven (1770 - 1827): Sonate for Piano and Horn (Jindrich Petras, horn)
Mozart (1756-1791): 3 Horn Trios
Frederic Duvernoy: Horn Trios, Op. 4
Emil Hradecky (1952): Jazz Jokes for horn and piano (Zdenek Divoky, horn)
American composition for horns
Jiri Havlik (1955-): Concerto for horn and piano (Jiri Havlik, horn)
Peter Visser: Concertino for 3 horns and piano
---
Program C: Classical
Jan Vaclav Stich-Punto (1746-1803): 4 Horn Trios
Beethoven (1770 - 1827): Sonate for Piano and Horn (Jindrich Petras, horn)
Mozart (1756-1791): 3 Horn Trios
Anton Rejcha (1767-1836): 4 Horn Trios, Op. 82
Oldlich Flosman (1925): Serenade for 3 horns and piano
Richard Strauss (1864-1949): Andante for Horn and Piano, Op. posth. (Jiri Havlik, horn)
Alexej Fried (1930-): Kontrasty for Horn and Piano (1996) (Zdenek Divoky, horn)
Jiri Havlik (1956-): 3 Fugues for 3 Horns and Piano