Norbert Heller, piano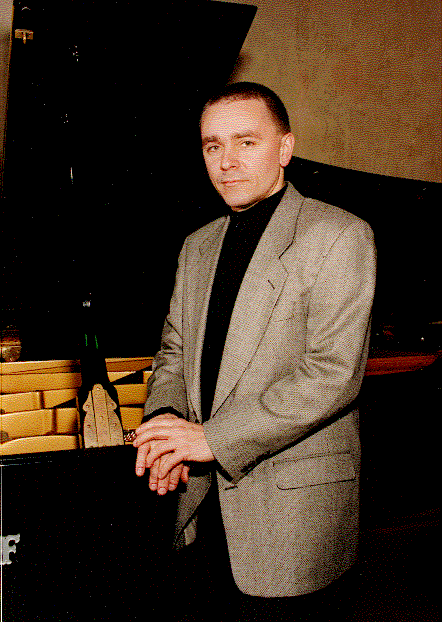 Norbert Heller is a distinguished Czech pianist with an impressive career of both solo and chamber performances. He has won competitions, performed with major European orchestras and has made a number of critically acclaimed recordings.
He studied with the famous Czech pianist Ivan Moravec. He also studied chamber music with violinist Joseph Vlach of the Vlach Quartet. He was the pianist of the Czech Trio and often accompanies cellist Ludovit Kanta and Petr Macecek.
Heller has organized the Czech-American Music Foundation in Prague whose members include Czech business leaders, politicians, musicians, and such notables as Count Tomas Kolowrat and Milos Forman, the director of Amadeus.

---
To: Concert Presentors:
We bring to your attention the excellent Czech pianist Norbert Heller. As you will see from the materials below, Heller is an artist and personality of the highest quality who has made a deep impression on critics and audiences alike. His intense but well-structured approach to music involves you in the unfolding of the great works for piano.
Mr. Heller is available during October 1998 as well as other selected times for both solo recitals and as soloist with orchestra for a very affordable fee.
To send an email message about Norbert Heller [click here] or call 1-602-668-9236.
---
Press Reviews
The Washington Post 1997 - Thomas May
There was great spontaneity in Beethoven's Appasionata, especially in Heller's buildup of suspense in the opening measures and in his 'eye of the hurricane' rendering of the middle movements variations. ... Heller proved himself completely attuned to the meditative properties of Schubert's crowning Sonata in B flat, D. 960. Artfully considered pauses in the first movement's sprawling vistas provided deep focus and a measure of tension to its cloud-veiled quiescence."
Anthony Tommasini, New York Times 1997
The former student of Ivan Moravec played with fluidity and clarity. Even in the final movement of Beethoven's Appasionata his energy never flagged. Mr. Heller's most gratifying playing came with Chopin in which he played with a gentle lilt and melodic contour.
Dorothy Andries, Chicago's Radio WNIB and The Pioneer Press, September 1997
His performance of two Mozart sonatas were marked with reckless speed and exquisite precision. The Beethoven Appasionata burst into the hall with intimations of the composer's Fifth Symphony everywhere in evidence. Heller gave a fierce performance. His Allegro was like a sudden storm, full of lighting and thunder lacking only the raindrops. The final piece was Schubert's Sonata in B-flat Major, in which Heller married clarity and lyricism to stunning effect. Heller mined not only the song, but plumbed its source as well as, as if listening to the composer's heart.
Milos Pokora, Musica, 1995
Written about Mr. Heller's first Schubert recording: Heller's career as a performer, rich and diverse in its selection of genres and concert forms alike, has included highlights such as recognition at Hradec's Beethoven Competition (1st Prize), the Performers Show held under the auspices of the Czech Ministry of Culture (1st Prize), as well as awards from international contests in Vercelli (diploma), Warsaw, Moscow and Bolzano. Schubert's music seems intrinsically close to the artist's remarkably imaginative, meditative and thoughtful performance.
Prague Post, 1992
His techinique is supreme and his expressive pallette is large. His manner of expression is not pretentious but is entirely subject to the interpretation of the work. In his recital is reflected something entirely personal and profound.
A. Beal, Diapaison Paris, 1992
The interpretations, very enchanting and spontaneous, have their foundation in the Bohemian sty1e.
---
Norbert Heller
Biographical Information
Czech pianist Norbert Heller is an intensely serious musician with a deeply personal approach to the interpretation of music. He has a very structured mind which prompts perfectionism in his craft. Although quite at home with big romantic works for the piano, he also has an abiding interest in the classical pianoforte and has also recorded on this instrument, including his prize winning recording of the B-flat Schubert Sonata.
While making his mark as an exciting soloist, Heller is also deeply involved in chamber music. He was the pianist of the Czech Trio and often works with other important instrumentalists. "I like the close, family-like relationships that chamber music fosters. I must play with good friends so that we can be closely attuned to each other's inner thoughts."
Heller has a relaxed sense of humor and an almost mischievous disposition. Just mention soccer to him, and you must strain to bring him back to music.
Interesting, it was hepatitis that decided Heller's musical career. At the age of 15, he was given a choice to pursue professional soccer training at the Czech Sports Institute or music at the Prague Academy of Music. His sudden bout with the illness pushed him into music. He has no regret over the choice, but you can still find him playing soccer with his friends for hours.
You can also find him relaxing by playing Mahler symphonies on the piano.
Over the last four years, Mr. Heller has recorded four compact discs for solo piano. Two of the solo piano recordings are Schubert, one is Beethoven, and one is Mussorgsky. As a member of the Czech trio, he has recorded two compacts discs of chamber music. The trio recordings are of Shostakovich, Smetana and Schubert.
In 1994, his second Schubert recording was awarded the Top Instrumental of the Year prize in his country.
Beginning in August 1995, Mr Heller will record all of the Mozart sonatas and all five of the Beethoven concertos. When these recordings are completed, he will resume his ongoing project of recording the Schubert sonatas. These sonatas are being recorded at Konrad Graff Castle in Libochovice on an 1807 Hammerkiavier, an instrument that has been mastered by very few of the currently active concert pianists.
Mr. Heller plans to reside and work in the United States approximately six months of each year.
Born: May 30, 1957
Musical Education:
1972 to 1978: Marta Toader of the Ostrava Conservatoire
1978 to 1982: Ivan Moravec of the Prague Academy of Music
1982 to 1986: Joseph Viach of the Prague Academy of Music

Major Competition:
Beethoven Hradec Competition, First Place
Czech Ministry of Culture Competition, First Place
Vercelli Competition, Diploma
Chopin Competition in Warsaw
Tchaikovsky Competition in Moscow

Concerts with Major Orchestras:
Prague Symphony Orchestra
Slovak Philharmonic Orchestra
Luxemburg Symphony Orchestra
Zagreb Philharmonic Orchestra

---
Discography
Norbert Heller began recording only after the end of the forty year communist era which ended in 1989. Since then he has recorded thirteen CDs. His first Schubert recording, made in 1992, was chosen Instrumental of the Year in the Czech Republic.
His most current ongoing project is the recording of all the Mozart Piano Sonatas. He has already completed the first two CDs which are being released individually.
---
Smetana: Trio in g minor
Shostakovich: Trio
with the Czech Trio

---
Schubert: Trios (2 CDs)
with the Czech Trio

---
Schubert:
Sonata in G
Sonata in a

---
Schubert: Sonata in C, "Reliqua"

---
Mussorgsky: Pictures at an Exhibition

---
Mussorgsky: Songs and Dances of Death
with Juri Kruglov, bass

---
Mozart:
Sonata in Eb, K. 282
Sonata in G, K. 283
Sonata in a, K. 310
Sonata in Bb, K. 570

---
Mozart:
Sonata in D, K. 545
Sonata in Bb, K. 281
Sonata in F, K. 280
Sonata in C, K. 330

---
Schubert: Arpeggione Sonata
Dvorak: Rondo
with Ludovit Kanta, cello

---
Mendelssohn: Sonata for Piano and Viola
von Weber: Sonata for Viola and Piano
with Karl Dolezal, viola

---
Brahms: Sonata No. 3 in d Minor for Violin and Piano
with Petr Macecek, violin

---
Selected Repetoire for solo piano
Beethoven:
Sonata No. 1 in f, Op. 2 No 1
Sonata No. 3 in C, Op. 2 No 3
Sonata No. 6 in F, Op. 10 No 2
Sonata No. 8 in c, Op. 13 (Pathetique)
Sonata No. 14 in c#, Op. 27 No. 2 (Moonlight)
Sonata No. 17 in d, Op. 31 No. 2 (Tempest)
Sonata No. 23 in f Op. 57 (Apassionata)
Sonata No. 24 in F#, Op. 78
Sonata No. 27 in e, Op. 90
Sonata No. 29 in Bb, Op. 109 (Hammerklavier)
Piano Concerto No. 1 in C, Op. 15
Piano Concerto No. 2 in Bb, Op. 19
Piano Concerto No. 3 in c, Op. 37
Piano Concerto No. 4 in G, Op. 58
Piano Concerto No. 5 in Eb, Op. 73 (Emperor)
Concerto for cello, violin, piano and orchestra in C, Op. 56
Variations on Eroica, Op 35
Rondo in C, Op. 51, No. 1
Rondo in G, Op. 51, No. 2
6 Bagatelles, Op. 126

Brahms
Variations and Fugue on a Theme by Handel, Op. 24
Rhapsody in b minor
Concerto in d minor
various ballads

Chopin
Sonata in Bb minor
Scherzo in Eb minor
Concerto In E minor
various etudes, mazurkas, waltzes, impromptus

Liszt
Sonata In B minor
Mephisto Waltz

Mozart
Sonata in F, K.533
Sonata in C, K.330
Sonata in D, K.311
Sonata in Bb
Sonata in F, K.627
Sonata in F, K.332
Sonata in a, K.310
Sonata in C, K.309
Sonata in Eb, K.282
Sonata in D, K.284
Sonata in F, K.280
Sonata in A, K.331
Sonata in D, K.576
Sonata in G, K,283
Sonata in C, K.545
Sonata in C, K.279
Sonata in Eb, K.281
Sonata in C minor (Fantasia), K.475
Piano Concerto No. 20 in d
Piano Concerto No. 24 in C

Mussorgsky
Pictures at an Exhibition
Dances and Songs of Death

Prokofiev
Sonata No. 2 in d, Op. 14

Schubert
Sonata in a
Sonata in Bb (Great)
Sonata in C (Posthumous)
Sonata in G
Arpeggione Sonata

Schumann
Carnival, Op. 9
Sonata No. 1 in f#, Op. 11
Symphonnic Etudes

Mr Heller has also performed in many voice/piano duets by composers such as Strauss, Schubert, Mahler and Dvorak.